William Grant of Trois-Rivieres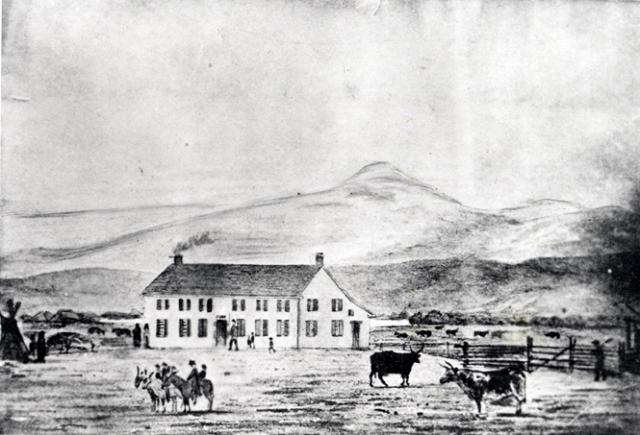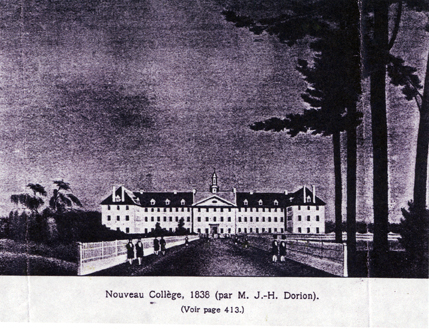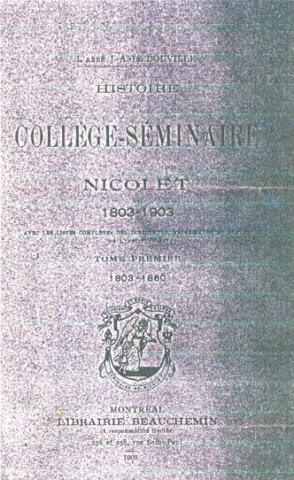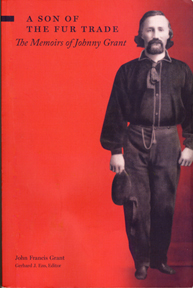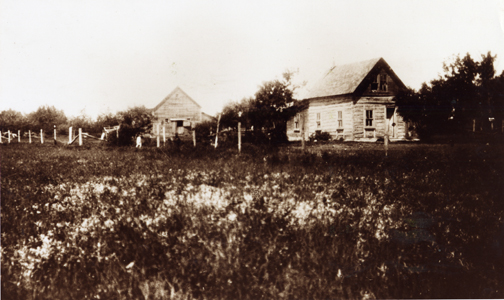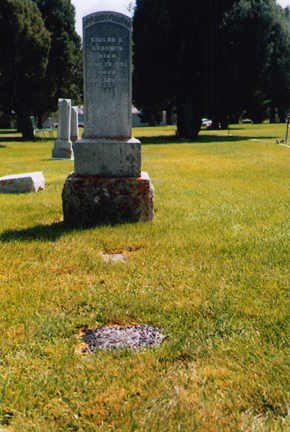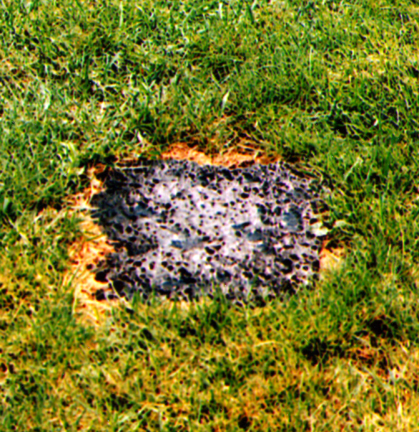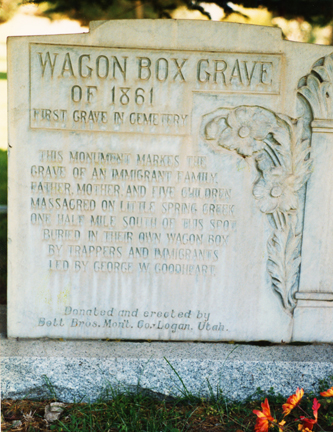 The following fifteen pictures are of the memorial monuments erected by the City of Edmonton commemorating the Traditional Burial Grounds and Fort Edmonton Cemetery at Rossdale.  The commemoration date was Friday, August 10, 2007.
The bottom picture is Sally Grant beside the monument displaying Marie Anne Breland's name.  Sally is a descendant of Marie Ann

through her son, John F. Grant and his first wife, Louise.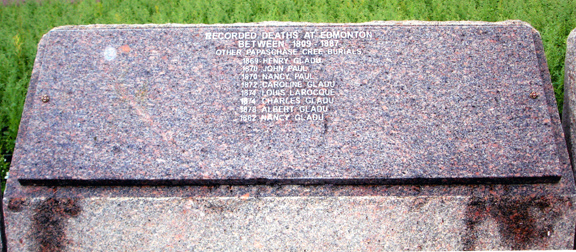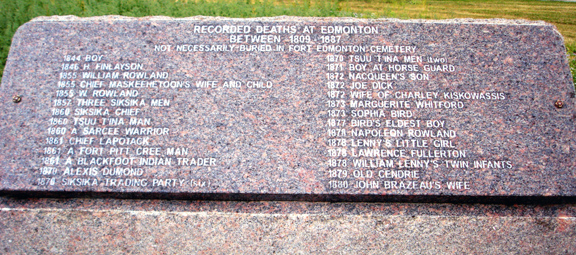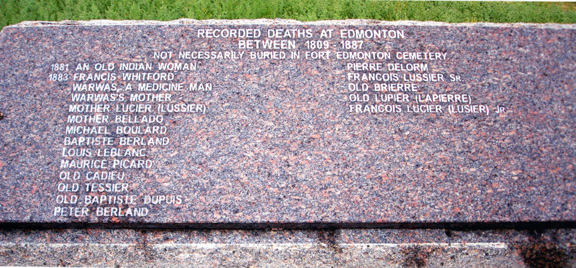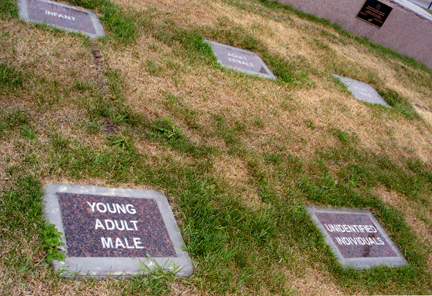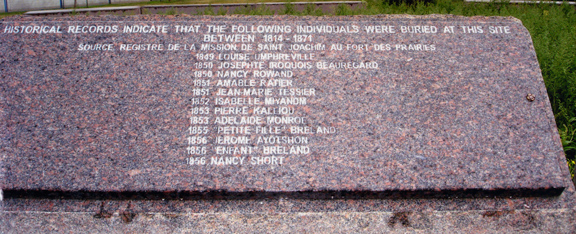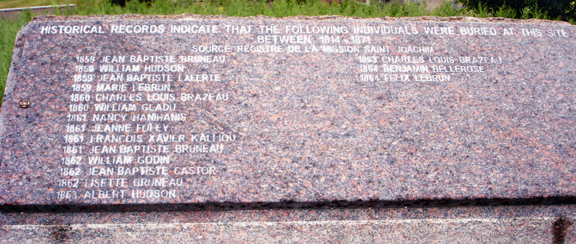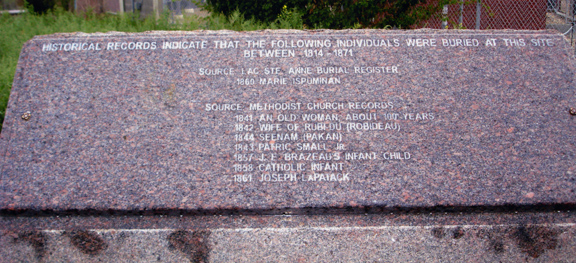 Louise Umphreville - Wife of John Rowand Sr.; mother of Marie Anne Breland & Nancy Rowand.
Nancy Rowand - Daughter of John Rowand & Louise Umpheville.
Marie Anne Breland Grant - Daughter of Pierre du Boishu dit Breland & Louise Umphreville.
                                      - Step daughter of John Rowand
                                      - Wife of HBC Clerk/Chief Trader, Richard Grant
                                      - Mother of Richard Stanislas Grant, Charles William Grant, Jeanne        
                                        Marguerite Grant & John Francis Grant
Double-click to edit text, or drag to move.
Homestead of Johnny Grant, son of John F. Grant & Quarra.
"Wagon Box Grave of 1861 ~ First Grave in Cemetery ~ This monument marks the grave of an immigrant family. ~ Father, mother, and five children massacred on Little Spring Creek one half mile south of this spot. ~ Buried in their own wagon box by trappers and immigrants led by George W. Goodhart."
Since the tragic deaths of its occupants, the Wagon Box Grave has been recognized as the first grave in the Soda Spring cemetery. 

In recent years, the lava rock has become recognized as a grave marker.  Research and substantiating information concludes  Richard Grant died in 1852 and that the lava rock marks his resting place.

John F. Grant's Montana home, built in 1862. 

Drawing by Granville Stuart.

Johnny Grant's 'lazy g' horse brand, brought with him from Montana to Manitoba.
(R) Wood stamped with the brand. The " g" measure 4 inches long and 1.5 inches wide.
Credit: Antoinet & Arnold Major
(L)  The lava rock, above, marks the grave of Richard Stanislas Grant, son of HBC Chief Trader Richard Grant and Marie Anne Breland, brother of John F./Johnny Grant, and husband of Emilie Levreault de Langie.  In 1852, Richard was shot by an Indian at or near the Bear River.  He died of the wound and was buried by the river.  Later, because of flooding, family and friends moved him away from the flood areas, and reburied him at what later became Soda Springs.  This large lava rock was placed over his grave as a marker.  Since then, the Soda Spring cemetery has developed and the lava rock is now close to the centre of the cemetery. 

(R) The lava rock placed in proximity of other cemetery markers.

The Memoirs of Johnny Grant
John Francis Grant
Editor Gerhard J. Ens
Born in 1833 at Fort Edmonton, Johnny Grant experienced and wrote about many historical events in the Canada-US northwest, and died within sight of the same fort in 1907. Grant was not only a fur trader; he was instrumental in early ranching efforts in Montana and played a pivotal role in the Riel Resistance of 1869-70. Published in its entirety for the first time, Grant's memoir—with a perceptive introduction by Gerhard Ens—is an indispensable primary source for the shelves of fur trade and Métis historians.

ISBN:  978-0-88864-491-6
Price:  CND$ 34.95, USD$ 34.95, £ 19
Subject:  Native History/North American History/Postcolonial Studies
Publication Date:  November 2008

Awards
2008 Manitoba Historical Society, Margaret McWilliams Award
Margaret McWilliams Competition, Popular History

Reviews
"This memoir, which Grant dictated to his wife before he died in 1907, is really two books. The first is a story packed with adventures of the early West. They start with his raucous relation with his father, a Hudson's Bay Company trader in Idaho, which comes to a head when his father holds his son at gunpoint. The men would reconcile but the incident set Grant on
a course of living as a trapper among aboriginals and other mixed bloods like himself.... Meanwhile, tales like the one of Grant hauling saddlebags of gold powder by public stagecoach across the plains are the stuff of TV and movie westerns.... But the rise of European-imported capitalism with its banks and lawyers signalled the end of Métis businessmen like Grant. Grant was illiterate, and ignorant of fine-print capitalism, and was frequently victimized by some swindle or other. This is the second book.... Ens [the editor] is meticulous. Rich footnoting fills gaps in the memoir and provides biographies of everyone from bit players to historic figures Grant encounters."
Bill Redekop, Winnipeg Free Press, September 13, 2009

"The Johnny Grant Memoir has been almost a legend among western historians. The manuscript was known to exist but no one could seem to find it.... Grant, a Métis, led an adventurous life in Manitoba, where he was deeply involved in Riel's first rebellion in 1869-70. He was a businessman in Manitoba for the next twenty years and lived in Alberta from 1891 until his death in 1907. The book is a fascinating account of western life from a Métis viewpoint."
Alberta History, Autumn 2009

"The annals of Montana history are populated with an abundance of men who 'lived large.'... One of the state's most prosperous early businessmen, Grant was also one of its more spectacular failures, having made and lost a fortune by the time of his death in 1907.... In this unabridged version [of Grant's memoir], a critical introduction provides an overview of the manuscript's
provenance, followed by a detailed chronological summary of Grant's life. This chronology is not intended as a mere précis but instead provides the broader sociopolitical context necessary to understand Grant's perspective on events.... This book is enhanced with family photographs, maps, detailed endnotes, and two genealogical appendixes intended to assist the reader in sorting out the complex web of Grant family relationships. However, the strongest element of the manuscript is Johnny Grant's narrative--with or without annotation. Grant's candid reflections on his personal relationships and his matter-of-fact acceptance of his financial failures provide interesting insights into the man and reveal his most basic priorities--his family and his horses -- not necessarily in that order. This latest version of Johnny Grant's memoirs will appeal to readers of western history, scholars of the Métis, and anyone who enjoys stories about fascinating people in our shared past. This detailed and intelligent book is destined to become the standard reference on Johnny Grant, and rightly so."
Heather Devine, Montana: The Magazine of Western History, Summer 2009

"Published in its entirety for the first time, A Son of the Fur Trade: The Memoirs of Johnny Grant is the collected memoirs of John Francis Grant (1833-1907), who during the course of his eventful life in the Canada-northwest U.S. fur trade experienced and wrote down his perspective upon a host of historical events. In particular, Grant offers a unique perspective on events in Native American
history, as he often lived and worked in Indian-controlled territory and even fell in love with Indian women. An authentic window into bygone era, A Son of the Fur Trade is an excellent primary source and especially recommended for college library collections; its smooth, accessible prose makes it surprisingly enjoyable reading for casual browsers as well as historians."
Willis M. Buhle, Midwest Book Review, 2009
"[Grant's] narrative is amazingly modern in feel -- colorful, on-scene, up-front-and-personal, honest -- and entirely lacking in that fustiness that often characterizes memoirs of the Victorian period. Grant's account also reflects a great deal of the  personal influence that he felt from the native American side of his family ancestry. Memoirs like this, that give us an in-depth look at the mixed-blood side of Western American and Canadian history, are rare and needed for a complete perspective of what 'life on the frontier' was really like.'"
Patricia Nell Warren, March 23, 2009 [Complete review posted on Amazon.com]

"One day in 1905, at their Edmonton-area home, Clotilde Bruneau Grant asked her elderly husband to dictate his memoirs to her
. ... [As a result], we have a rare Metis autobiography that provides a precious and absorbing look into the window of 19th
century life on the U. S. and Canadian frontiers. Grant was quite the character....And although some of Grant's memoirs have an air of truth-stretching about them, they are invaluable for relating the fascinating, long-forgotten, customs of the frontier.... Ens has done a superlative job of editing Grant's memoirs and made them a wonderful read, but Grant has given us the best gift of all--himself, in all his up-close, in-your-face 19th century glory."
Naomi Lakritz, Calgary Herald, August 9, 2009

"Johnny Grant was one of those legendary frontiersman who lived large and unapologetically, amassing his fortune on gut instinct, guile and charm. Born at Fort Edmonton in 1833, the Métis land speculator and rancher had an affinity for adventure and seduction. In the course of his life he managed to sire 28 children by at least six women. He tells in his memoir, 'I may reflect here that about this part of my nature, this great fondness for women which has followed me through life, that it has brought me very close to trouble at times, but I always got out of it without any serious consequences.'"
Geoff McMaster, Express News, University of Alberta, December 10, 2008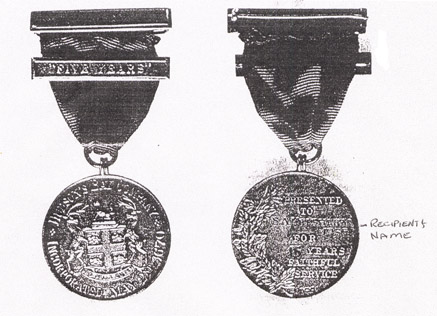 Hudson's Bay Company Long Service Awards
The Hudson's Bay Company first awarded medals for long and faithful service to commemorate the 250th anniversary of the Company in 1920.  Silver medals were awarded for 15 years of service and silver clasps were given for each five years of additional service.  With 30 years of service gold medals were issued and gold clasper were awarded for each additional five years of service .  A total of 393 individuals qualified for the gold award and 1,981 received the silver medals.  The awarding of medals and clasps was discontinued in Canada in 1949 and in  London, England in 1968.
In April, 1921, Joseph Richard Grant was one of the 393 individuals to receive the gold medal plus one gold bar, representing 35 years employment with the Hudson's Bay Company.  The whereabouts of his medal and bar are unknown but would like to be known.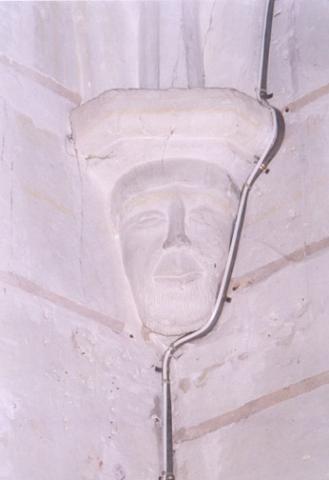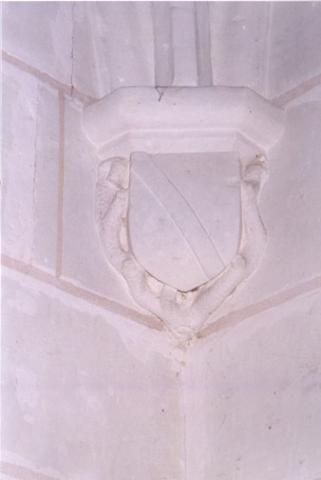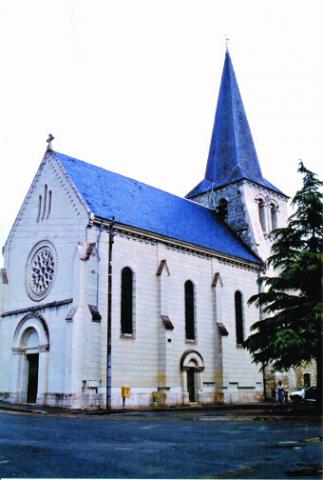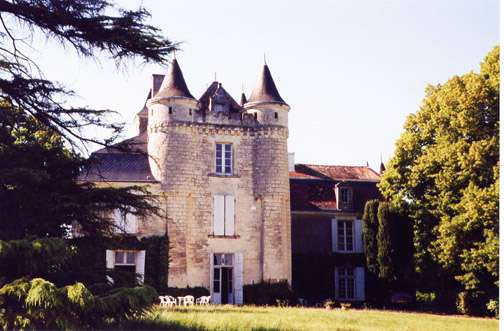 St. Dunstan's College, Charlottetown, P.E.I.  The college as it originally looked and as it looked when J. Richard Grant attended it from 1861-1866.

Double-click to edit text, or drag to move.
Left:  Tour de Naintre, once the family home.  The last member of the family to live here were the grand parents of Leon-Joseph Levreault de Langis, Charles and Marie Mesnard.  When he died in 1628, his wife lived there a short while longer, but had to sell the house.
Left:  Church at Naintre, France. 

Left: Levreault Family Crest.  Pre-French Revolution

Left: Bust of one of the Levreault family members.
Architects are currently attempting to determine its date, which in turn will determine the identity of

the family member.  Pre-French Revolution.

Both the crest and the bust are located in the chapel
of the church at Naintre.  Only because they were
high in the corners of the chapel and unreachable
did they survive the destruction wracked during

the French revolution.

Credit: Marc de Langie, Levreault de Langie descendant; France

The French Connection ~ Levreault de Langie